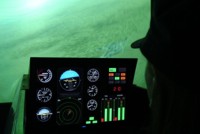 Black Sky Training is the premier Commercial Human Spaceflight trainer for flight crew and spaceflight participants. Private human spaceflight companies need competent, well trained crews and spaceflight participants to comply with safety regulations and to minimize the risks associated with such flights. One of the most effective means for minimizing risk in this industry is to have competent trained crews and passengers.
Black Sky provides advanced spaceflight training for spaceflight participants, flight crew and
Reusable Launch Vehicles (RLV) pilots using safe and effective methods developed by recognized industry leaders. Our courses have been developed and are taught by Master Certified Flight Instructors (MCFI), Doctor of Neurology, certified expert in Human Behavior and Advance Ground Instructors (AGI).
Our courses, facilities and vehicles are designed to maximize learning in a fun and exciting atmosphere. A successful training environment is one that is not boring or run-of-the-mill, it becomes a stimulating experience. From the first step into BST's lobby, students will understand that it will be more than just "flight training"; it will be an adventure to remember forever.